Sheep stories have always been intriguing to me and for good reason. Bighorn sheep are a true spectacle of nature. Hunting bighorns in Colorado forces a hunter to climb the same mountains and scramble the same scree fields as the sheep, especially for bowhunters. Hunters that persevere long enough to find a ram also wait out thunderstorms that split rocks outside their tent. There is no doubt in my mind that the miles a sheep hunter puts underfoot are some of the most difficult miles anywhere on earth. 
Sheep hunting can also mean shelling out a lot of cash if done on a regular basis. For most of us though, it means waiting patiently for decades to draw a tag. Working for Colorado Parks & Wildlife has taught me to expect to wait my turn.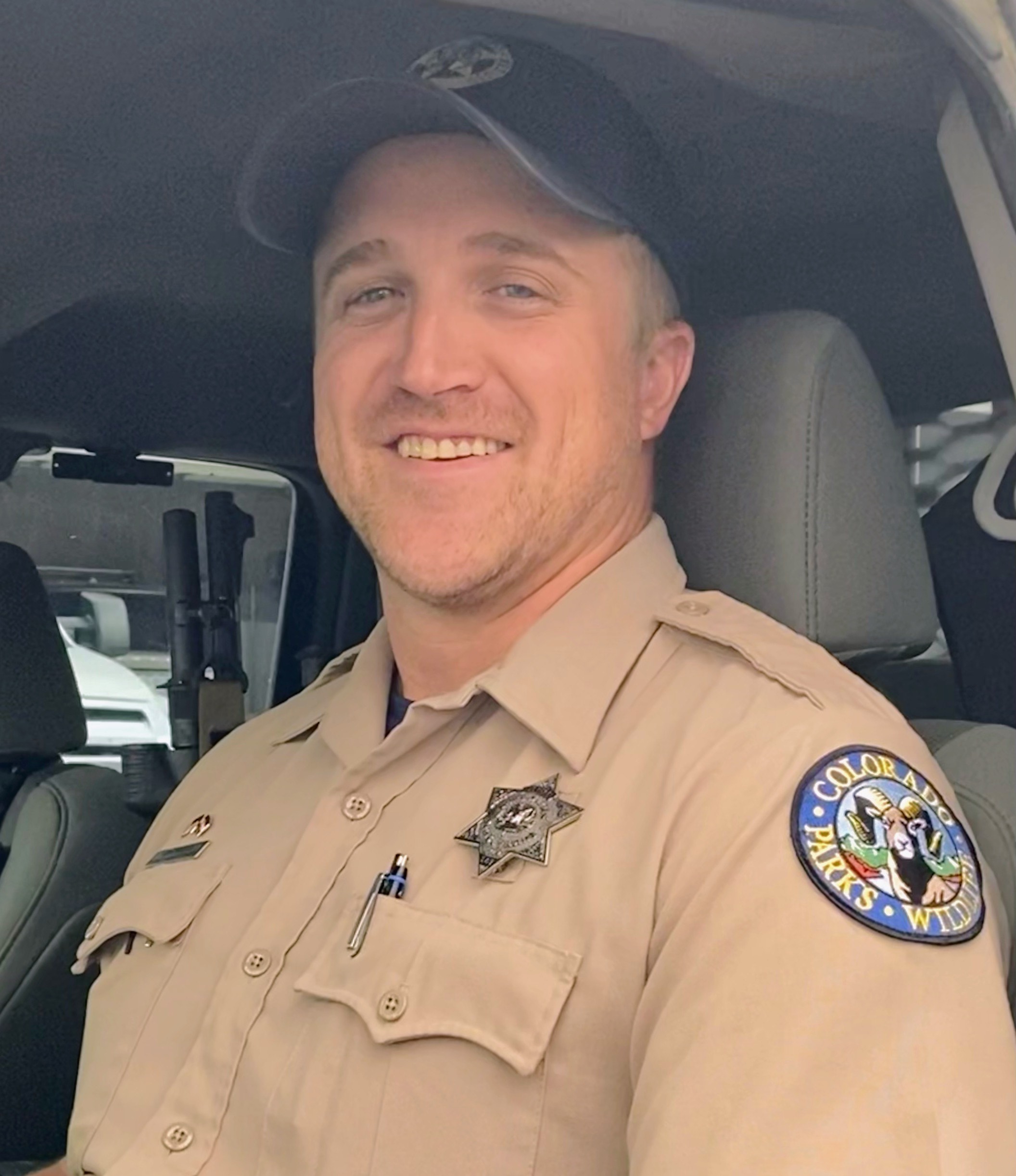 In my short career as a game warden, I have developed a monologue for speaking with disgruntled hunters about why they haven't drawn a sheep tag after putting in for over 15-20 years for a license. I have personally seen sheep hunters cry tears of joy when checking in their ram. 
Opportunities to kill sheep come at a premium and hunting wild sheep is absolutely a privilege. With our current weighted point system for the bighorn lottery having preference points helps, but luck is really what decides a hunter's fate in the draw. We all just throw our name in the hat and wait. 
For the reasons listed previously, I couldn't believe it when I drew an archery ram tag. I wasn't planning on hunting sheep for another 10 years or so. 
I instantly shared the news with my wife. She was incredibly supportive, even while knowing that drawing a coveted hunting license means total abandonment once the season starts. This highlights an important phenomenon that I believe hunting stories generally miss the mark on. Wives make huge sacrifices to keep things together at home while their men whisk away to the mountains. 
The tag that I drew was for unit S66, which encompasses a portion of the high country along the Continental Divide west of Leadville. Most people know the Sawatch range for hiking its 14er's, but it is amazing sheep country. Tall, "gentle" peaks offer plenty of prime habitat for the sturdy grazers. 
The limiting factor for bighorns in that country appears to be winter habitat, as Leadville and the surrounding areas are an icebox through the cold months. It took me one scouting trip to realize why Jack O'Connor referred to hunting mountain sheep as a young man's game. Finding sheep is one thing, getting within archery range seemed to be something else entirely. 2021 would be only the third year there was an archery tag for this unit. None of the four previous archery hunters had killed a ram.
The sheep archery season is the entire month of August. I planned on hunting for the first 14 days of the season. I figured If I wasn't able to kill a ram in two weeks I could go back for a couple three to four day stints later in the season. 
Being employed by Colorado Parks & Wildlife also means that all your co-workers understand what it means to draw a sheep tag. Plus, August is generally a slow month for us anyways, with only the pronghorn archery season to worry about. 
In the days leading up to my departure for the sheep hunt, I was a bit of a mess. Concentrating on anything other than sheep was a challenge. I packed, unpacked, and repacked enough times to make my wife wonder if I had some sort of early-onset dementia. 
Finally, I got my basic kit to a manageable weight, got everything in order at home, and loaded up. I left three days early so I could spend a couple days glassing in hopes of locating some new rams. My younger brother and a good friend were able to come out that first preseason weekend. After that, I would be running solo. 
The forecast wasn't ideal but I thought we could still be effective. We spread out searching for rams. Wet is the only word to describe the first few days. It was misty as only the mountains can be, with constant low clouds rolling through the valleys, and intermittent downpours. As a farm boy this is the type of weather that I would usually enjoy, but not when you are trying to find animals that spend most of their time above the treeline. 
In one particular thunderstorm, while camped high along Lake Creek, I could feel water running underneath my tent. With rock slides happening nearby I wasn't too comfortable with my location. I tried not to think about the cliff face and giant boulders looming above my head. 
I slept on and off through the night. Every time I would wake, I was happy to find that I wasn't swimming. After three days of glassing in the books and no mature rams located, I figured it best to throw in the towel and head to where everyone kills their ram, the Fryingpan.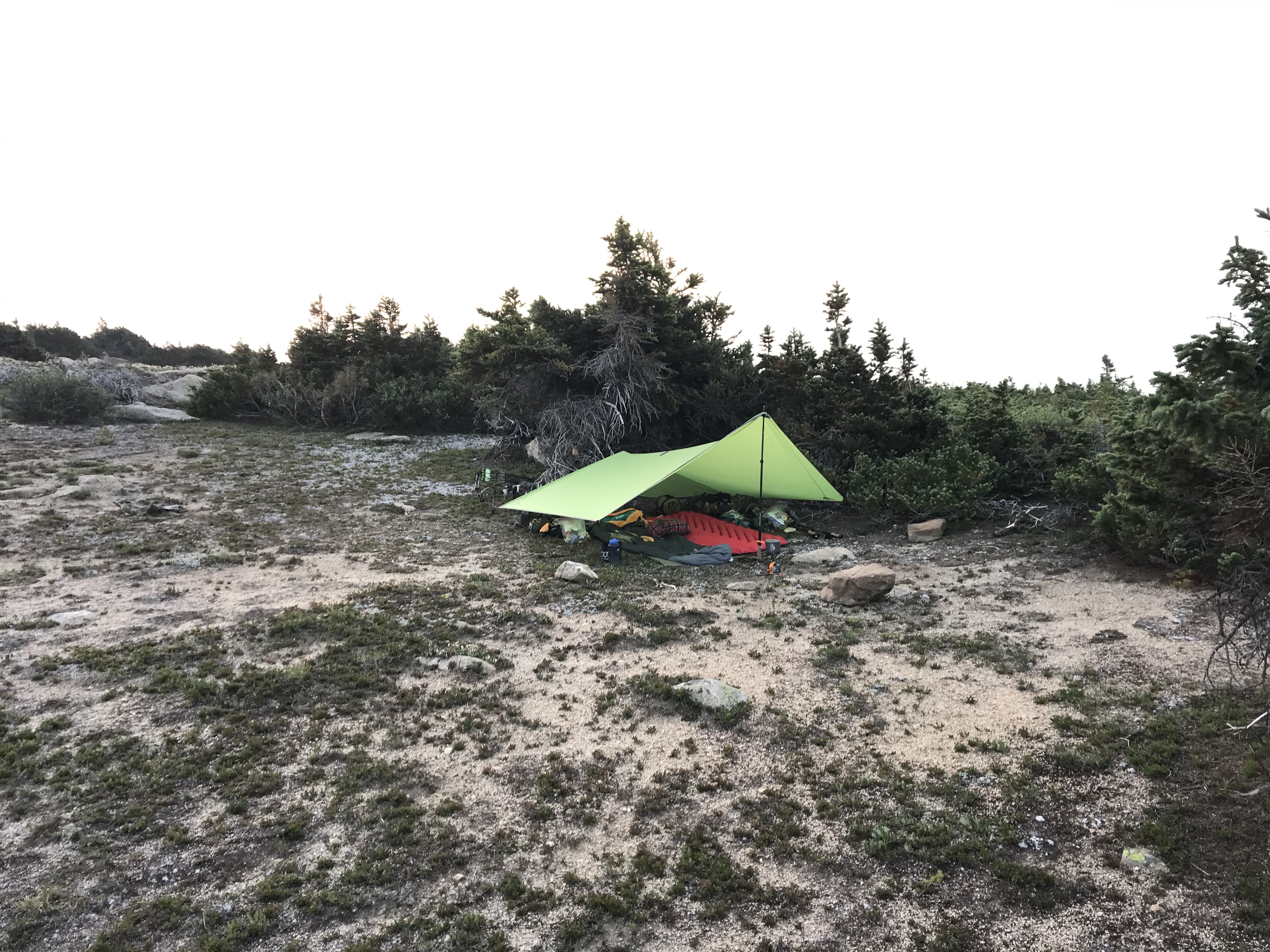 The following day was another misty morning. After a rather bumpy ride over Hagerman Pass and down into the Fryingpan, I followed a smoke trail to a canvas wall tent. Here, I visited with the other hunter and found that he too hadn't done much sheep hunting because of the weather. 
I let him know that I was planning on hiking in and camping for a few days. He seemed happy to visit. I was secretly happy to hear they hadn't been on any sheep. We traded GPS info and said our goodbyes. 
At the trailhead I loaded my pack and hit the five mile trail to Fryingpan Lakes. It was raining again. I have always had a disdain for hiking in rain gear. The best rain gear keeps water out and subsequently keeps water in. 
As I set up my camp at the lakes around noon, the rain had subsided and the clouds were beginning to lift. As soon as I set up my tripod and spotting scope, it began to rain again, so I packed it up and enjoyed the comforts of my tent for the afternoon. I decided to sleep off the rain storm. Hours passed and the rain continued to drum the fly on my tent. I napped until I couldn't any longer. 
Eventually, I realized that the rain had set in and that I probably wouldn't be able to hunt at all that day. It was at this point that I had my first mental challenge. 
All of my gear was damp or wet and I hadn't seen blue sky in three days. I knew the weather for the next few days was going to be dreary. I quickly made the decision to pack out. 
I would dry my gear and come back when the weather became cooperative. I threw everything in my pack soaking
wet and began my defeated march back to the truck. Every so often I would stop and glass the alpine slopes for sheep. 
Between passing clouds about halfway down the trail I saw the white rump of a sheep, then two, then three. I dropped my pack and broke out my spotting scope. Indeed, there were five rams above the treeline about 1,500 feet above me. One of which looked to be nearing full curl, but all of them were of legal size. 
In Colorado, a bighorn ram is measured by creating an imaginary line through the center of the eye to the base of the ear. If a ram's horn tip crosses this imaginary line behind the ear then it is legal, a ½ curl ram. If a ram's horn tip crosses this imaginary line in front of the eye you have a full curl ram, an impressive old warrior.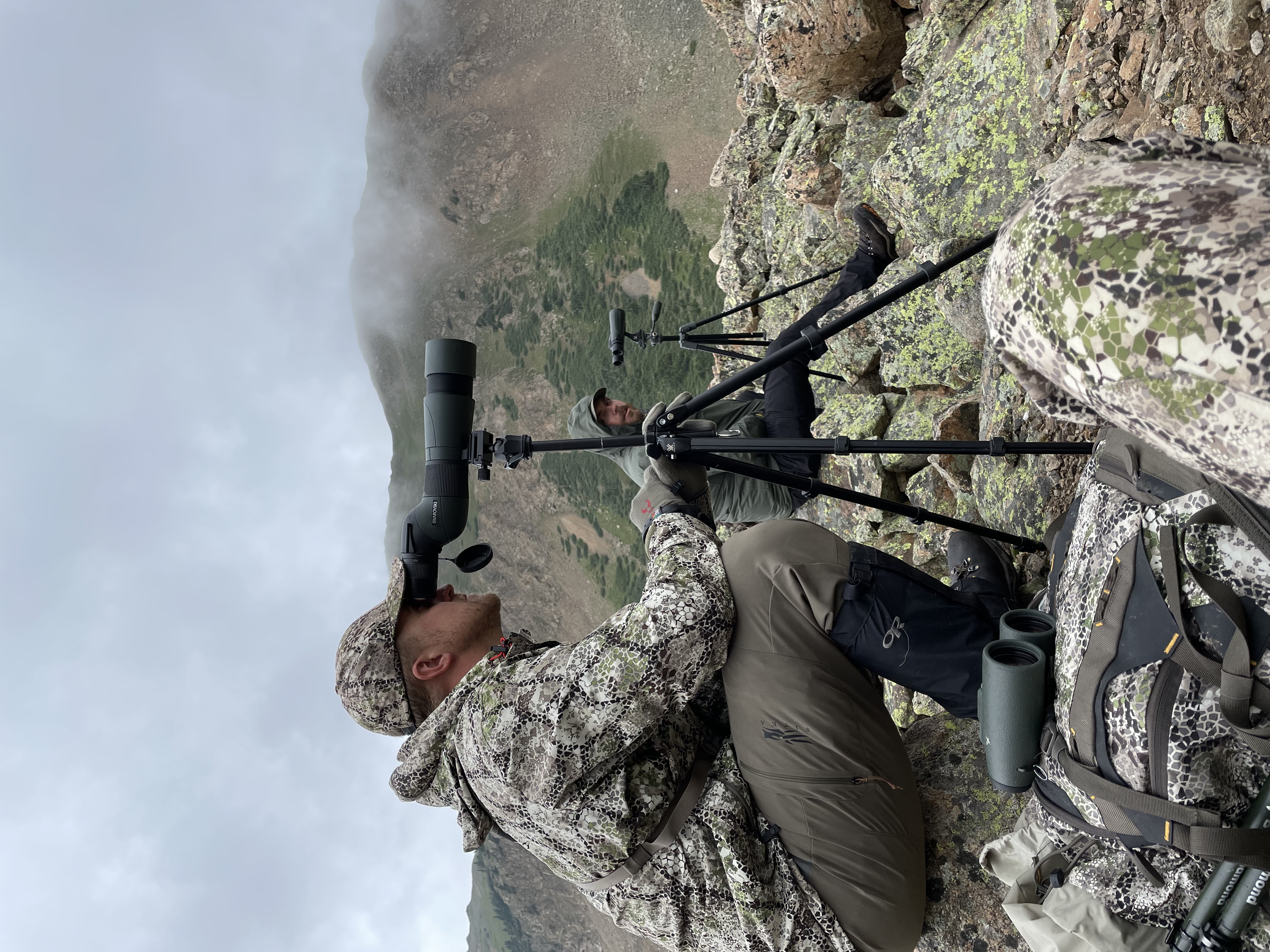 Finding a ram worth chasing changed my attitude instantly. Even now, a year later I can still feel the exhilaration of that moment. I knew exactly where I was headed when the weather broke. 
The fifth day of the season I got my chance. Not only did it dry out, there weren't even afternoon thunderstorms. With this blessing, I hit the divide to relocate the group of five rams, except this time I would be looking down on them. Instead of hiking up from the valley floor, I decided to sidehill along the divide. As a rule, I try not to fight Newton's law of universal gravitation.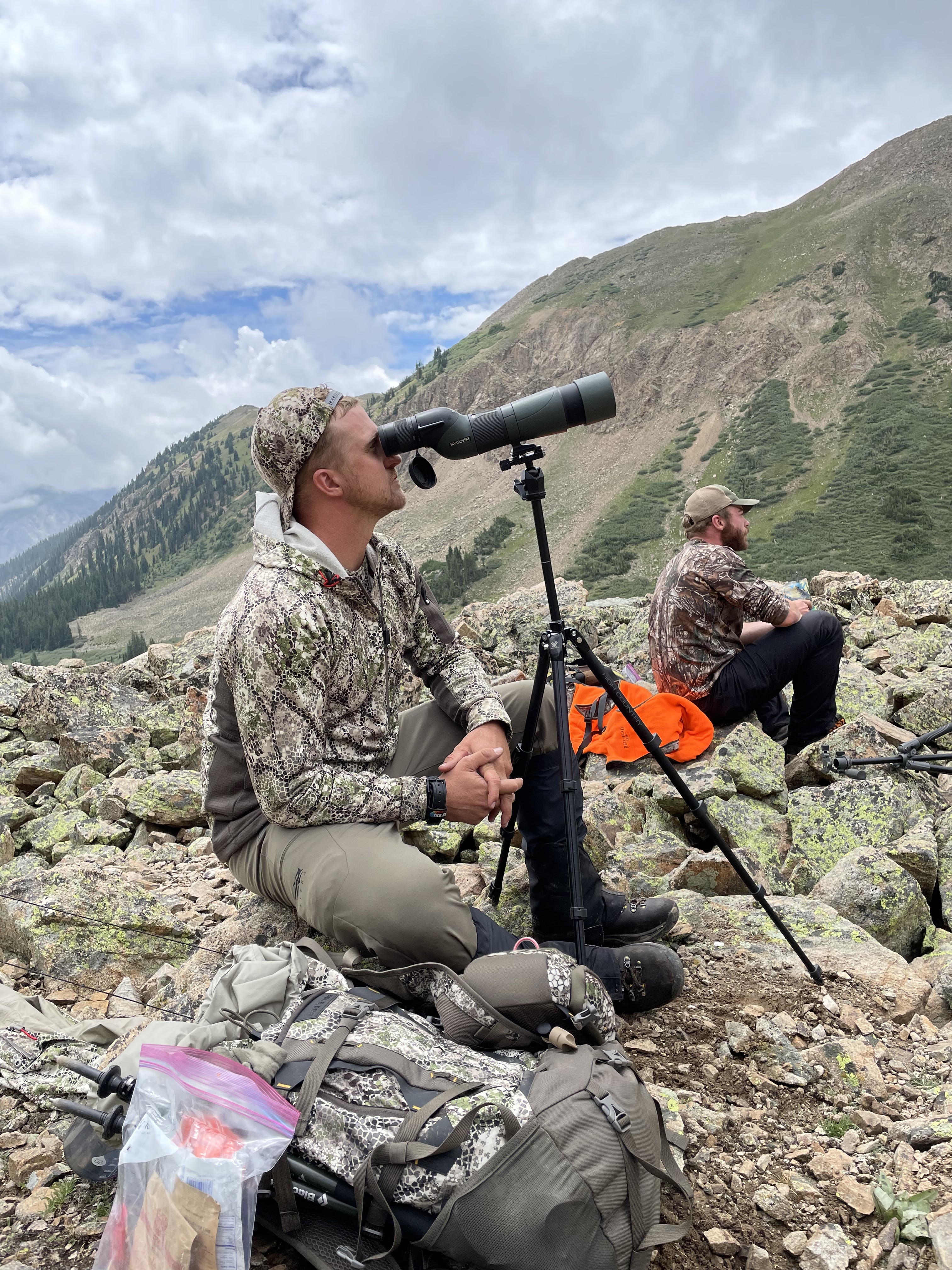 That morning I found the five rams I had left on the mountain. They were a part of a larger band which over the next couple days varied between 12-16 rams. Half of which were just over legal. There were a couple really nice ¾ curl rams and a beautiful, heavy, and deep ⅞ curl ram. 
He was magnificent, you could pick him out by his body size alone. This was the ram I had seen from the valley floor. The more I watched him the farther away he looked. I had told everyone that I would shoot the first legal ram I could, but the King of the Mountain drummed up the thought of holding out for a trophy.
On that first afternoon, I tried my first stalk. It was a group of smaller rams. There were plenty of boulders on the mountain and I was able to crawl behind them for the first hundred yards or so. 
After a while, the boulders petered out and I was left with basically no cover. I was just over 200 yards from the nearest sheep and decided to just watch them from there. I didn't want to risk blowing them out of the country. After all, I had the whole month.
After watching them sleep, graze, and pester each other for an hour or so I backed out so I would have time to make it back to camp before dark. I would live to hunt another day. 
I planned to hunt solo but my dad was able to make a spur of the moment trip. At 53 years old, I was a bit worried about Dad's durability but he stayed right with me. I will forever cherish those days with my dad on the Divide. Days spent eating freeze dried meals, sleeping on the mountainside, and glassing sheep country from a rocky crow's nest. 
We did more watching than stalking. It was the first time I realized that I was in no hurry to kill a sheep. I made strides to get closer every day and learn their patterns. I was content to watch and wait. 

It's Go Time
On the 10th day of the season Dad had to leave, so I hauled him to Denver and returned that night. I was feeling a bit homesick. 13 days apart from my wife and one year old daughter was getting to me. I had learned that if I camped right on the divide I was able to get marginal cell service. So I was able to call my wife that night and talk with my daughter. 
It's funny thinking about it now, but I was content at that moment to not kill a ram. I was happy with my trip and had fully enjoyed the journey to that point. Nonetheless, in the starlight the next morning I packed my bag with gear and rations for two days and headed into the darkness towards my sheep. 
The sheep did something different that morning. Unbeknownst to them, they had fed right into my wheelhouse. When I got to the summit and peered over the edge there were sheep scattered below me. 
The King was about 500 yards along the ridge to the south with his four companions. I started his way, but then realized a group of eight rams were below me. I decided it was unwise to attempt to sneak past eight watchful eyes, ears, and noses. I watched the eight rams for a short while and noticed one respectable ram sauntering off by himself. 
I figured this ram might go ¾ curl, but he would be a magnificent trophy to me. The lone ram was only a couple hundred yards below me. I decided to go for it. Everything seemed to be in my favor. The ridge we were on was still in complete shadow from the opposing peaks and the morning thermals were beginning to drift up the mountain. 
I dropped my pack, put a bottle of water and a protein bar in my pocket, and took off my clunky boots. From here on out, I did my best impression of a mountain lion slinking from boulder to boulder. 
I was now about 90 yards from the ¾ curl ram and at least an hour had passed. I was resting on my knees behind a rock about the size and shape of a shopping cart. The ram looked up, staring intently at my rock. At this point I figured my stalk was over. I had seen that look before and it was always the look just before my quarry takes off for the next ridge. 
That ram stood locked up, staring in my direction for what felt like an eternity. I was waiting for the other rams to catch his glare and join in on the predator hunt, but none of them did. For whatever reason, my ram thought it was okay and turned around and resumed grazing facing the opposite direction. 
I couldn't believe my luck. I just had to close a little more distance and I would be within range. I began to slide on my back plastered against the grass and rocks, inch by inch towards a gulley. My final slide was completely in view of some of the other rams. I moved slowly and stayed fully pinned to the ground, dragging my bow on the ground above my head. 
Once I made it to the gulley I knew I would be within range when I came over the other side. I tried my best to cool my nerves and nocked an arrow. When I came over the rise the ram was 48 yards from me, quartered away. I drew my bow back, as I had 1,000's of times before, and began to settle my sights on his vitals. Just before I was ready, my bow went off, sending my arrow over the sheep's back into a rock just behind him. 
The sheep whirled, now perfectly broadside. He still had no idea where I was. I loaded another arrow and sent it. This one was true, hitting him behind the shoulder, albeit a little high. I watched the arrow pass through him completely and the ram walked away, slowly out of sight. 
When I found that ram in his final resting place emotions rolled over me like a wave. I was filled with awe and gratitude as I laid hands on his horns for the first time. A sheep's entire life is displayed as a curled mass of horn. His good years of growth and prosperity, his hard winters, and his battles were all there for me to feel with my own hands. With my task completed, I hiked down the mountain with a heavy pack and full heart.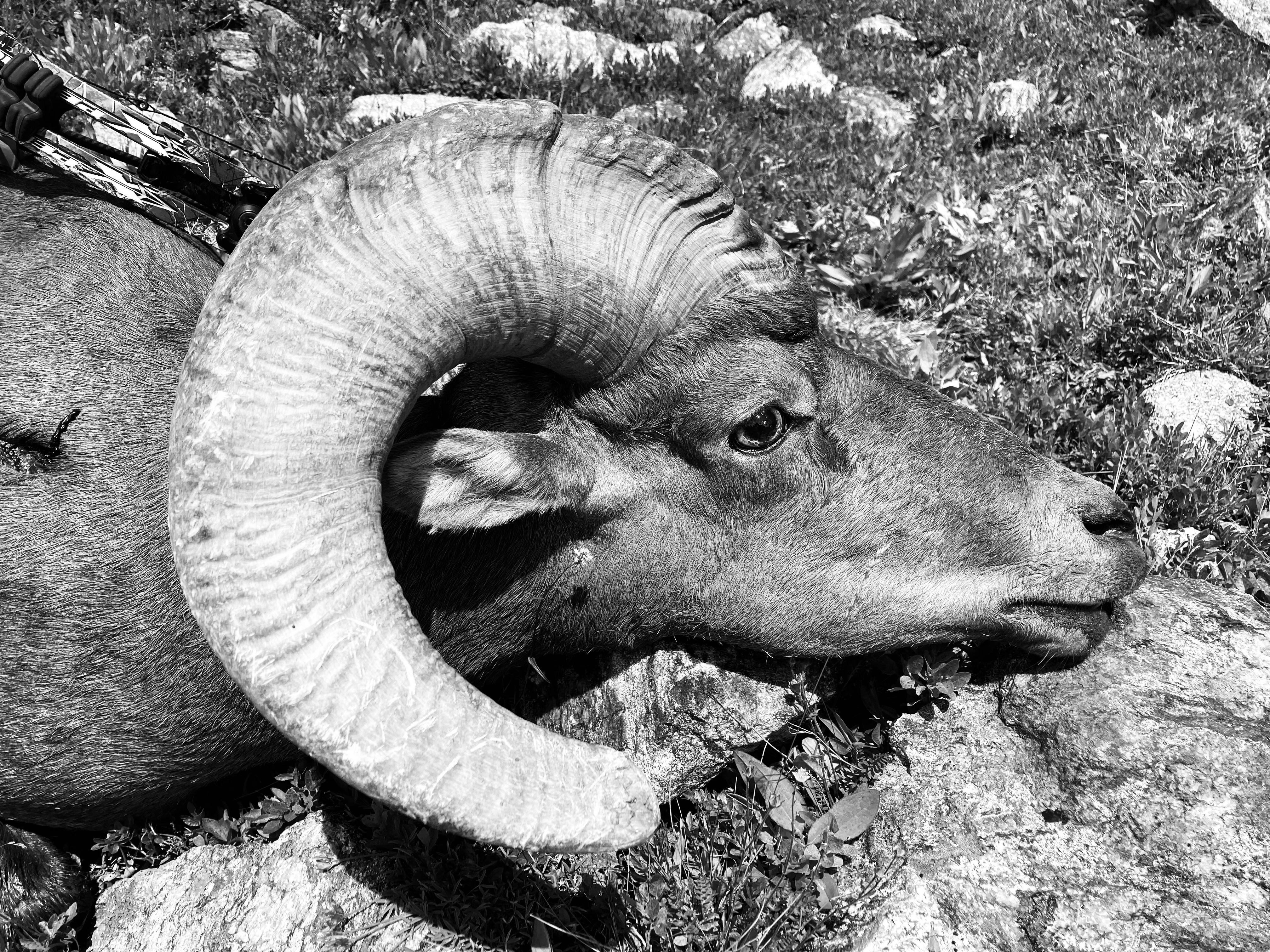 Thinking back on my experience, I came to find that hunting wild sheep has a certain level of purity. The majesty of sheep country is undeniable. Only the strongest animals can endure the hardships of the high peaks. Hunting bighorns in the wild places they inhabit takes a level of commitment nearly unparalleled in our world.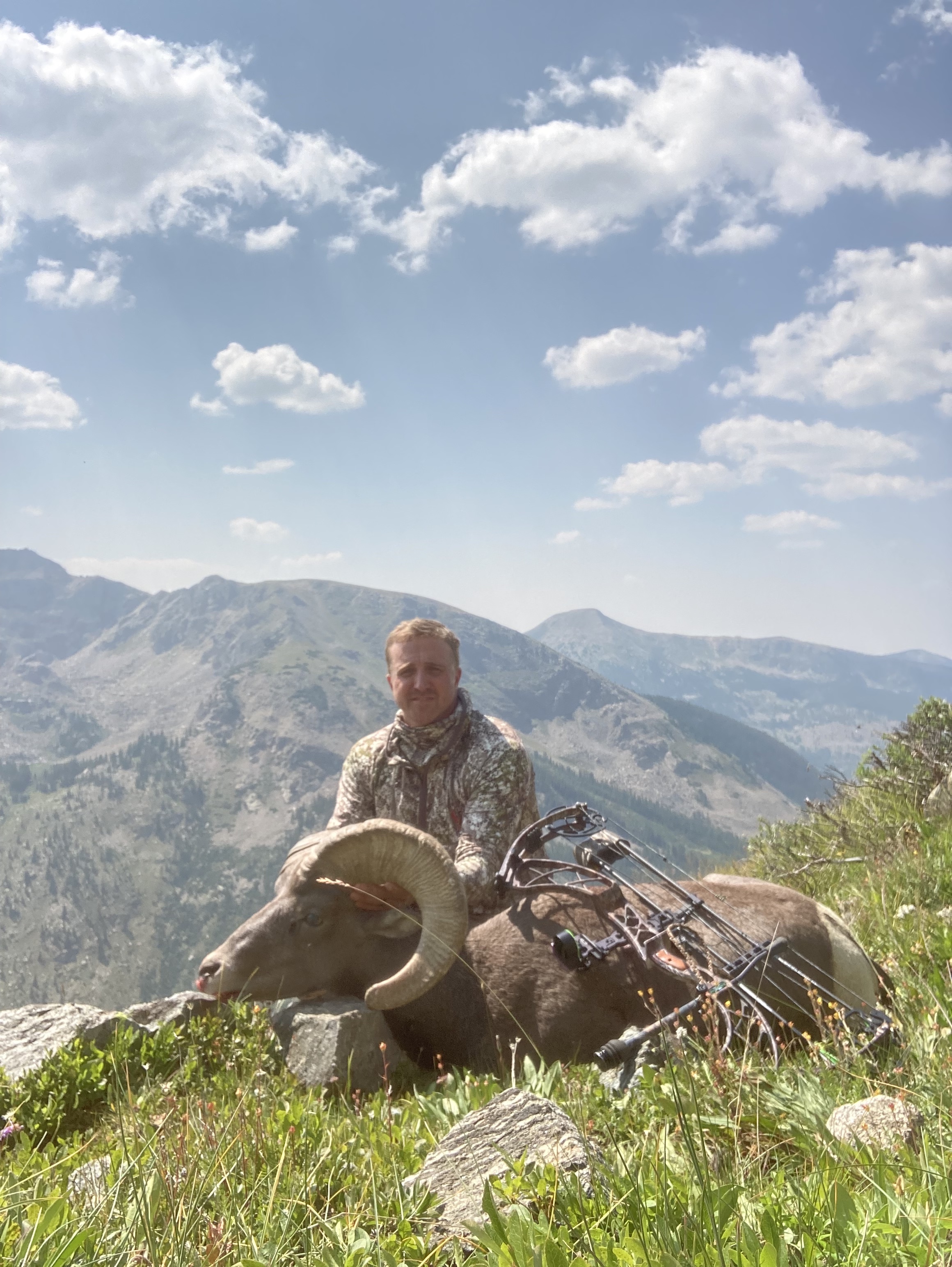 I now read sheep stories in a new light. They are much more visceral than they used to be. Unfortunately, my sheep story won't have another chapter for quite some time. It is now my sincere hope that every hunter who wishes to hike up into the clouds searching for a bighorn gets their chance. Until next time…
Ashlynn Rhodes is a District Wildlife Manager with Colorado Parks and Wildlife. Ashlynn covers the Wellington district, which spans northeastern Larimer county.