The 2021 CBA Annual Banquet was a great success. Thank you to every single member who attended! It's an amazing event that you can find the best bowhunters in the world attending. The ability to speak with other bowhunters is second to none in Colorado.
Daytime Events
Members had some really exceptional workshop speakers to learn from. Danny Farris, of Ultimate Predator, talked about the benefits of bow mounted decoys and how to use them effectively.

World Elk Calling Champion Jermain Hodge, of High Altitude Hunters, shared vital information about calling elk in two workshops. The first workshop featured his Elk Calling Basics techniques. His second workshop featured his Advance Elk Calling techniques. Members who attended were sure to walk away as better elk callers.

Heath Brown, with United Blood Trackers, shared the benefits of blood tracking with dogs. Blood tracking dogs can help you recover tough to find game.

Jace Bauserman shared his high level techniques for hunting mountain turkeys. It's hard to imagine the level of skill it takes to call in these mountain birds. Jace has a unique talent for teaching the techniques needed to be successful.

For the first time the CBA hosted a hands-on animal care workshop hosted by Lucas Watson of Meat Cleaver. Lucas shared his techniques on how to properly care for animals being prepared for processing. We hope to see more from Meat Cleaver in the future.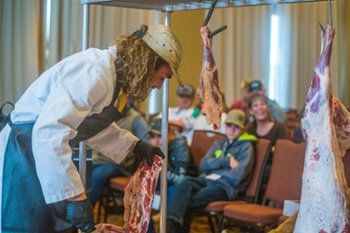 Jason Marsteiner, with Survival University, shared his expert tips on Backcountry Survival Skills. Let's face it, one of the most important parts of hunting is making sure you get home to your loved one's safely. Be sure to visit Survival University to learn more about backcountry survival. You can never be too good at survival!
Evening Events
The evening events were kicked off with 2022 CBA Chairman, Henry Ferguson, welcoming everyone in attendance. Mr. Ferguson emphasized the accomplishments of the CBA and the partnerships that were created in 2021 to advance issues affecting Coloradans who hunt. 

Featured keynote speaker Jace Bauserman shared his thoughts on the community of bowhunting. He emphasized that while bowhunting is an individual sport that makes it easy to focus on ourselves, it's the friendships we make through bowhunting that really is important. Jace shared his thoughts on his recent Big Horn sheep hunt. Even though he was in it for himself, he would not have been successful without the help of selfless friends who helped him achieve his goal.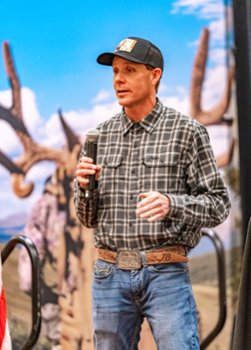 Although bowhunting is an individual sport, many of us experience success because of the help from others. Our community makes us stronger. We are better together!

Heather Vigil, daughter of 2021 CBA Chairman Gerald Rasmussen, gave a very heartful and deserved presentation on the accomplishments of her father. Heather helped everyone understand the impact of her father's accomplishments as a husband, father, grandfather and dedicated volunteer to the CBA. His service to the CBA spans many decades and has impacted many people in a very positive way. Thank you Chairman Rasmussen!

Big Game Chair Joe Bradley did an amazing job in his first year role. Joe created one of the biggest and best big game displays we've had the pleasure of viewing in recent years. We had some of the best bowhunters in the world share their successes.

Thank you to each and every single person who brought a display for everyone to enjoy. Congratulations to each and every 2021 award winner. We truly hope to see the Big Game Awards and Big Game Display grow every year. This is your recognition and thank you. Be sure to be thinking about entering your 2022 success next year!

The evening events were emceed by the Sportsman of Colorado Radio Show host Scott Whatley.
Scott's commitment to everything involving sportspeople in Colorado is second to few (possibly none). He always brings great passion to everything he is involved in. We appreciate his passion and dedication and congratulate Scott on his first bow hunting success as an adult. He successfully harvested a beautiful whitetail buck. Welcome to the First Timer's Club Scott! 

John Gardner was voted as the 2021 CBA Bowhunter of the Year by his peers. Mr. Gardner shared his heartfelt appreciation and a quick story of how he became aware of and joined the CBA. John was a young man visiting a bow shop and the owner asked if he was a member of the CBA.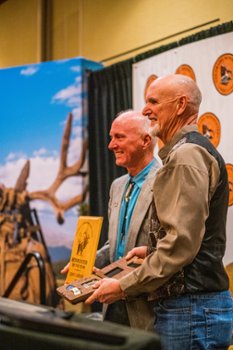 His reply "No" was quickly countered by the shop owner exclaiming, "If you bow hunt Colorado and you're not a member, shame on you." John became a member and eventually became a Lifetime Member. His passion for everything bowhunting Colorado pushed him into lending a hand volunteering with the CBA and many other national bowhunting and conservation organizations. The world needs more people like John Gardner. Thank you sir and congratulations!

The Big Game Awards were followed up by many members winning exciting hunts and gear from CBA partners. Thank you to all of our sponsor partners who make the CBA Expo and Banquet possible. The CBA would like to thank a special partner for making the event so special for everyone in attendance. Jerrod Meyer of Whitetail Properties Real Estate selflessly secured many of the donations from partners and brought many guests to the event. Thank you is an understatement to all of the volunteers and partners who made the 2021 Expo and Banquet possible.

Last, please join us in thanking the 2021 co-chairs Eric Martinez and Joey Brown. These two gentlemen worked tirelessly for months to ensure we all had a great time and enjoyed our community of the best bowhunters in the world. We look forward to seeing you all on the various archery ranges this summer.
2021 CBA Committee Awards
Volunteer of the Year- Victoria Jackson
Service Award- Matt Jackson
Service Award- Trevon Stoltzfus
Special Recognition- Kifaru International
Special Recognition- HOWL for Wildlife
Special Recognition- No Limits Archery
Special Recognition- Dan Gates
Area Representative of the Year- Paul Navarre
Bowhunter of the Year- John Gardner

 
2021 Big Game Award Winners


First Timer Award
Tyson Bradley        Wild Hog
Gracie Worsley        Pronghorn
Allison Mackey        Whitetail deer
Christopher Werner    Elk
Elinore Wolf        Mule Deer
Gage Douglas        Pronghorn
Jenean Hansen        Mule Deer
Brooke Hansen        Mule Deer
Gage Hansen        Mule Deer  
Elk
1st place    Tom Galley        334 3/8"
2nd place    Kaleb Bell        319 3/8"
3rd place    Robbie Hubbard     311 7/8"
4th Place    Dan Norman        309 1/8"
5th Place    Paul Navarre        219 7/8"
Pronghorn
1st place    Joe Bradley        80 4/8"
2nd place    Allen Clark        75 6/8"
3rd place    Andrew Rowland    70 6/8" (tie)
3rd place    Leonard Moore        70 6/8" (tie)
5th place    Gracie Worsley        68 6/8"
6th place    Paul Navarre        64 4/8"
Whitetail Deer
1st place    Robert Webster        156 4/8"
2nd place    Chad Lewis        132 7/8"
3rd place    Brandon Powell        130 2/8"
4th place    Zimmy Oseland        112 4/8"
Mule Deer 
1st place    Hunter Klenk         172 1/8"
2nd place    Ron Rockwell        167 5/8"
3rd place    Robbie Hubbard    151 2/8"
4th place    Matt Dworak        134 3/8"
Non-Typical Mule Deer
1st place    Joseph L. Platt        178 5/8"
 
Bighorn Sheep
1st place    T. J. Thrasher        178 3/8"
2nd place    Frank Havens        151 3/8"
3rd place    Brad Warren        140 3/8"
Mountain Goat
1st place    John Elstad        40 0/8"
Black Bear
1st place     Adam Thorson        21 9/16"
2nd place     Stephen McGraw    20 4/16"
3rd place    Andrew Masters    19 4/16"
4th place    Cindy Dziekan        15 8/16"
5th place    Pete Hinterhauser    14 14/16"
Mountain Lion
1st place    Cindy Dziekan        14 5/16"
Shiras Moose
1st place    Alicia Viskoe        138 6/8"
2nd place    Dennis Doerr        136 0/8"
3rd place    T.J. Thrasher        133 2/8"
4th place    Matt Dworak        94 5/8"
Big 8
#113        Cindy Dziekan        Bear
Big 9
#52        Cindy Dziekan        Bear
#53        Matt Dworak        Moose